Project Overview
Direct Line for Business was struggling to drive awareness and reach the right people in the small business sector. They wanted a creative digital campaign that would increase their visibility amongst target audiences and generate qualified leads for their liability insurance.
Services
Social Strategy
Production
Strategic Development
By closely analysing the online behaviours of our target audience (builders, plumbers and small business owners), we got to know who they were, where they were active and what type of content they engaged with. Video was by far the most popular content type – in particular, pranks and "laddish" humour. With the Olympics on the horizon, we also identified an opportunity to take advantage of the feverish media attention around this event. These insights combined to directly inform our creative strategy.
Putting these insights into practice, we developed the Trade Olympics, a series of hilarious short videos that showed tradesman competing in different Olympic events while simulating exaggerated carelessness on building sites. These were shot in "UGC style" to provide an authentic look and feel and used CGI to bring the extra drama. Teaming up with On The Tools to help promote the videos, they quickly went viral on social media, generating millions of views and thousands of shares. All while highlighting, in a fun way, the need for liability insurance.

Campaign Assets
The user-generated style was a lot of fun to produce, working with talent on-site to get the right clips, then heading back to the studio to build in the dramatic CGI aspects that would get the blood (and the views) flowing. See for yourself…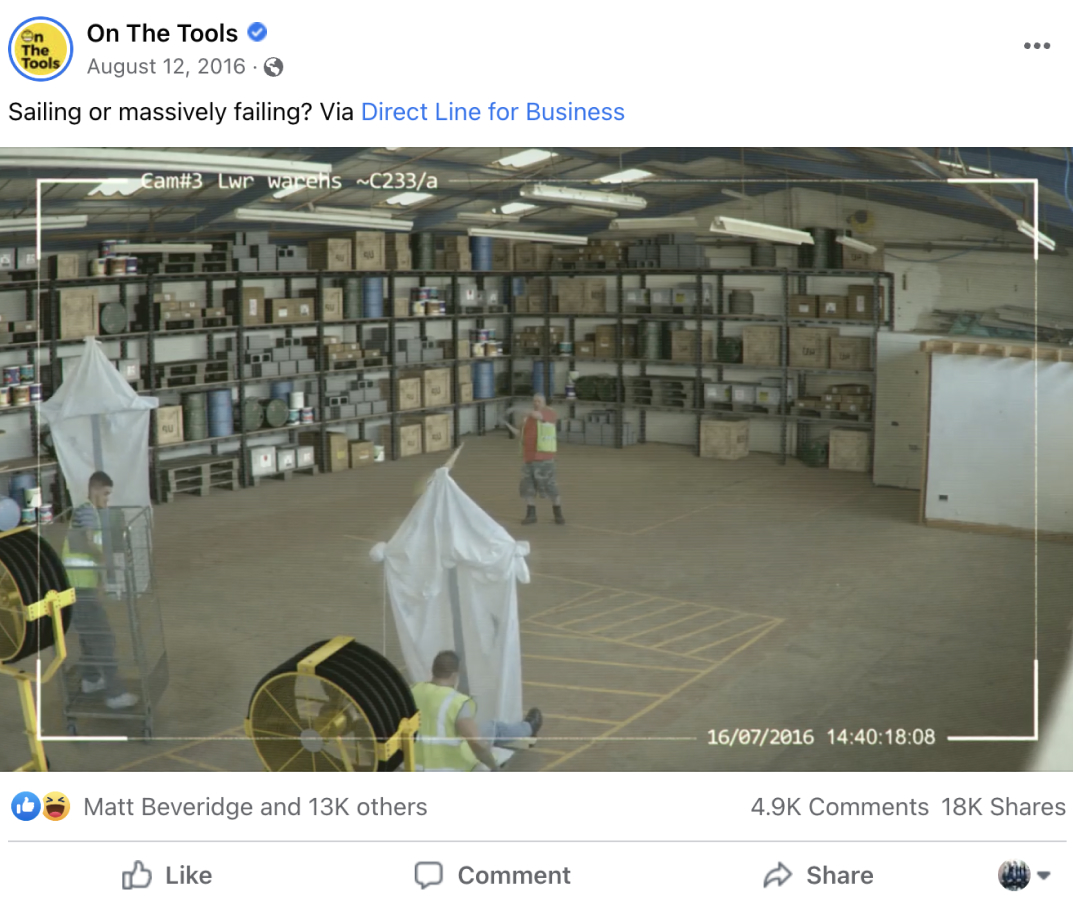 Results
By partnering and identifying the right channels and media format, we were able to get our content to the right people in the right place. And the results were nothing short of staggering. In the first three months, the three videos racked up:
Over 12 Million Facebook Views
100k Facebook Shares
70k YouTube Views
In total, the three videos racked up over 15 million views, 90k shares, 90k likes and more than 21,000 comments. While views are sometimes misleading, the fact that our target audience has been (and still are) sharing and commenting on the videos so actively shows how well they resonated.